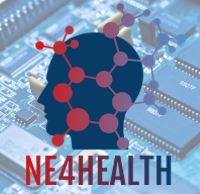 The project "New European Electronics for Global Health and Wellbeing" (NE4HEALTH) has started on 1st September 2020. NE4HEALTH is one of new cluster Partnerships started working under the Clusters Go International programme of the European Union. The programme supports clusters from Europe to work together and look for trade and investment opportunities as well as cooperation partners in third markets for the benefit of their members, especially SMEs.
In the NE4HEALTH project cooperates 5 European clusters:
Project objective:
The main objective of the NE4HEALTH project is to create a partnership of world leading clusters which focused on internationalization of electronics (printed, embedded) technologies applied to health and wellbeing sectors.
Project summary and actions:
Medical technologies are products, services or solutions used to save and improve people's lives. These health and wellbeing applications are available in hospitals, community-care settings and at home (sticking plasters, screening tests, pregnancy tests, hearing aids, body scanners, gene mutation tests, implantable devices, joints for knees and hips). There are more than 25.000 SMEs in Europe's sector alone while the associated market worldwide is €426 billion (€115 billion in Europe) and the value chains are becoming more and more global.
This European Strategic Cluster Partnership will lead five EU clusters (and their SMEs) to increase their competitiveness and innovation potential for internationalization with a European coherence, fostering international cooperation among SMEs, and enhance Innovation, in the field of electronics applied to health and wellbeing sectors.
Currently the Partnership involves clusters from Spain, Germany, Romania, Poland and Latvia, but during the implementation phase with European vocation is planned to cover the whole value chain from materials to health and wellbeing markets.
The global value chain will be structured around an innovative transnational collaborative approach focused on cross-sectoral collaboration to commercialize the different technologies, products and services jointly in the field of electronics applied to health and wellbeing sectors, developed by the clusters (and their SMEs), in international markets that will be identified in the project.
The project actions will result in the following outputs:
Value Chain Analysis
Market Studies on Targeted Third Countries – will be started with candidates such as Japan, USA, South Korea, Israel, Canada, Taiwan, China
Internationalization Strategy Plan
Project duration: 01.09.2020. until 28.02.2022.



All news